Cork stopper types and sizes
There are several crucial aspects that should be considered while bottling with cork stoppers. In order to assure the highest performance of cork closure is recommended to follow certain guidelines and make sure the bottling process is well prepared in advance. 
Select the right cork type
While selecting the type of cork stopper the winemaker should consider characteristics of wine, the type of bottle and expected performance of the cork stopper.
The cork closure should protect the wine during the projected shelf-life, meet the requirements of the bottling line and meet consumer expectations such as visual aspect and functionality.
Natural cork stoppers have a superior quality and are recommended for Quality Wines Produced in Specified Regions and wines that grow old in the bottle before consumption. The remaining types of cork stoppers, such as technical cork stoppers, colmated and agglomerated are recommended for fast consumption wines.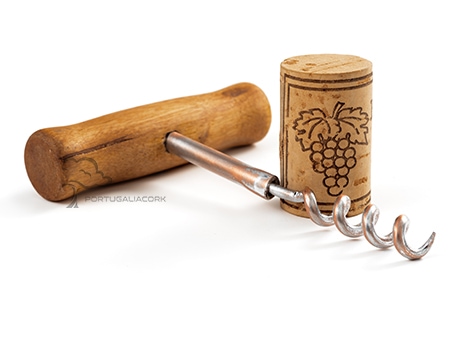 Define the cork size
The size of cork stoppers depends on the internal profile of the bottle, bottling environment and wine characteristics.
The "C dimension" is the term used by most of glass companies to report internal diameter at the top 5 mm from the mouth of the wine bottle.
It is important to verify the diameter measurements further down the neck bottle interior.
Irregular diameter or excessive taper can be a matter of design or manufacturing variance. Too wide bottleneck interior at the bottom of the cork can compromise the overall performance of the cork including sealing.
Wine may seep around the sides of the cork or even leak. Also the aging process might be impacted and the wine quality can be affected.
It is recommended that the internal diameter at the bottom of the cork does not exceed 21mm.
For regular wines the diameter of the stopper should be 5.5 mm greater than the mean nominal through-bore of the bottle neck. For wines of more pressure inside bottle, such as sparkling wines, it is recommended to use cork stoppers with 25 or 26 mm diameter.
The length of cork stopper should be selected in accordance with wine type, bottle filling height and wine characteristics.
For high quality aging wines it is recommended to use cork stoppers with 45 mm or 49 mm length.
Handling and storage of cork stoppers
After packed, cork stoppers should be stored in places with temperatures between 10º and 20º Celsius and relative air humidity between 50% and 70%. This helps prevent risk of cork stoppers surface treatment contamination. Cork stoppers average humidity level should be between 4% and 8%. Stoppers below or above target moist level should be removed from bottling and returned to the supplier in order to take corrective action.